When we hear NewSpace, most of the time we see nanosatellites or reusable launchers, most of them made in the USA as Americans are the kings of marketing and social media. However, another country has entered the NewSpace race and is going very fast: China. As little informarion filters out of China and since the industry focuses mostly on the local market, the impact of the Chinese space sector remains unknown to most of us. The goal of this article is to give a broad overview of the Chinese space sector.
Some key factors can explain the importance of the space sector in hiina. First space is part of the strategy of China to become a (or the) global power similarly to the race to the moon between Russia and the USA in the 50s/60s. Beyond the political aspect, Newspace impacts China as it has impacted other countries: it makes access to space easier cheaper and thus facilitates the creation of many new start-ups and companies building on space tech to generate new businesses. And we should not forget that with a trade balance of more than 400 Billion dollars every year, China has foreign cash reserves in excess of 3 Trillion Dollars (#1): there is no shortage of funds to be invested in space projects!
Some numbers to start
To start, some simple statistics that demonstrate the activity of the Chinese aerospace sector.
Let's start with the number of launches by country in 2020:
| | | |
| --- | --- | --- |
| Country | Launches | Details |
| USA | 44 | 25 Falcon 9 launches |
| China | 39 | 34 Long March launches, different versions |
| Russia | 17 | Incl 2 Soyouz from Kuru |
| Europe | 5 | 3 Ariane, 2 Vega |
| Japan | 4 | |
Launch stats for 2020 – source: Wikipedia
As far as the number of satellites in orbit goes, the USA remain the leader by far, with more than half of the 2800 satellites in orbit. China is second with close to 400 and Russia third with a little bit less than 200. With the Brexit, Europe goes to the fourth place… Figures are available from the Union of concerned scientists database.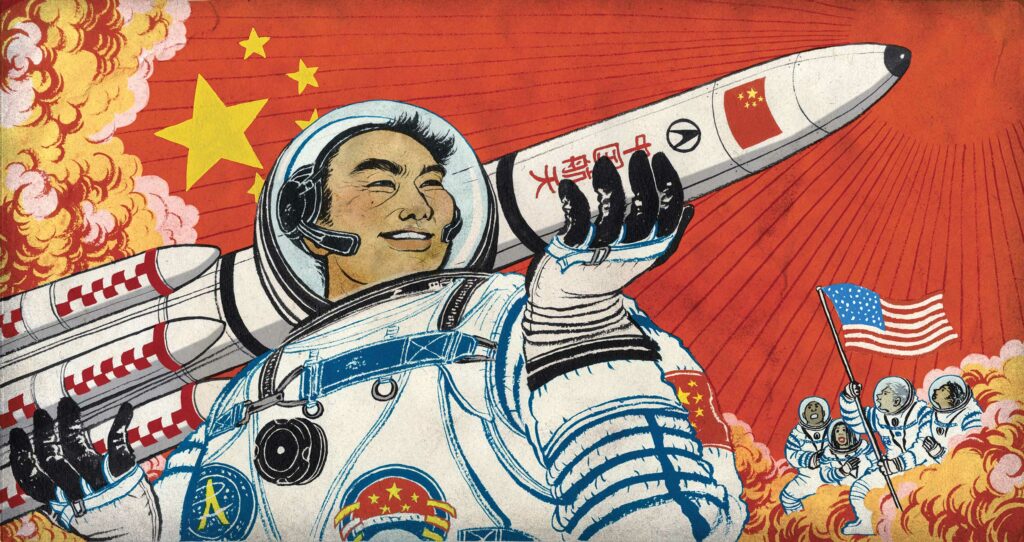 China's strategy
As always in China, all starts with the government. The recent story of the disappearance of Jack Ma, billionaire founder of Ali Baba, demonstrates again that in China you cannot act if not in line with the state policy. This is even more true for the space industry as space plays a role in the country's strategy (defense, sovereignty) and is a demonstrator of a country's technogical capacity both internationally and locally as space has always been a strong driver to get peoples adherence.
I will not describe in detail the Chinese space, but here are some of the most significant projects and successes:
China has its own space station program called Tiangon. Its first module will be launched in 2021 and it will have the size of the Russian Mir station
China has launched probes to the moon. In December 2020, the latest probe, Chang'e 5, has returned to earth with samples from the moon. The last time samples were collected was in 1976 by the Russian mission Luna 24 . The previous mission, Chang'e 4 landed on the far side of the moon in 2019. CHina plans to send people to the moon bu 2030.
China has its own navigation system called Beidou, which includes 35 satellites in GEO and MEO orbits for its third generation and is operational as of 2020. Beidou is an alternative to GPS, Galileo and Glonass.
China has its own program of EO (Earth Observation) satellites similar to the European Copernicus program. Little is known on this program called Gaofen, but more than 15 satellites have been launched providing optical and SAR data with a resolution that is probably simialr to Copernicus.
China has as seen before a very effective launcher program with the Long March rockets. 8 different types of Long March rockets have been used in 2020.
China has set two different state owned organizations to develop space industry (and other industries): CASC (China Aerospace Science and Technology Corporation) with 170K employees and CASIC (China Aerospace Science and Industry Corporation) with 145K employees. It is unclear to me what the difference is exactly between these two organizations, but their size is clearly impressive.
In summary, except for space tourism, China has invested in all parts of the space value chain.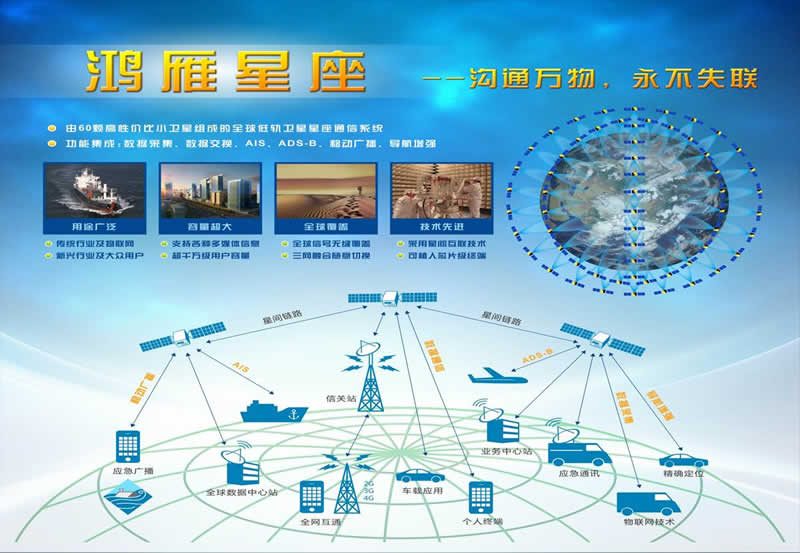 Constellation Projects
Constellations are all the hype these days and this is also true in China, both for private and public projects.
Here are some of the most significant projects:
Hongyan by CASC is a LEO broadband project with 320 satellites in L and Ka band
Hongyun by CASIC is a LEO project of 864 satellites to provide 5G, broadband and IoT connectivity
and the last one, à la Elon Musk, is a mega constellation of more than 13000 satellites to offer broadband everywhere on earth. A filing was made late 2020 at the ITU under the mysterious GW name
Other smaller projects focusing mostly on IoT are proposed by private companies such as Head Aerospace (under the name Skywalker) or Guodian Gaoke (project Apocalypse). And other companies are planning to build private EO constellations as well.
As in the rest of the world, all these projects will probably not succeed. However, some of them will as there is both support for governemental funding and private investment. On the side of the startups, what is remarkable is the agility of the companies and their ability to adapt their business models. A paper from Jean Deville on this is here.
Financing
Although Newspace has made space technology more affordable, this is still an expensive industry. Thus there cannot be a space strategy without appropriate financing.
In 2018, NASA spent 19,5B$, while the CHinese CNSA spent 11B$ and Russia's Roscosmos 3.3N$.
But beyond public funding, there is private financing available as well for space projets. Private investments in space companies was estimated at around 500M$ in 2018, 4 times less than in the US (from ida.org). In 2019, the Chinese company Ispace raised 173M$ for its launcher project. There is a clear upward trend that indicates that the Chinese government is opening up to private funds as state backed companies are barred from US markets.
And Europe?
Europe is clearly lagging behing due to some structural reasons that have been identified for a long time. First, the focus put on the two historical large satellite manufacturers (Airbus, TAS) and on the Ariane launch program has prevented innovation in other areas such as small launches or satellites. In addition, and this is true for other sectors, funding and investors are difficult to find for the space sector.
Fortunately, change is on its way, as many projects and start-ups are created in Europe and specific funds are made available. The recent decision of Thierry Breton to create a 1B€ fund for start-ups (Cassini) and to promote a European LEO broadband constellation to compete with Starlink and the Chinese is a strong signal that the European space policy is making a turn. But as always in innovation, we should avoid redo the same project but rather find our own different way!
This article is based on direct contacts with some Chinese companies, personal research and from the excellent blog https://china-aerospace.blog/ by Jean Deville.
Thierry Breton's speech: https://ec.europa.eu/commission/commissioners/2019-2024/breton/announcements/speech-commissioner-thierry-breton-13th-european-space-conference_en